Washington County, named after George Washington, was the first county formed after Kentucky became a state in 1792. Nestled in the historic bluegrass region of Kentucky, Washington County is a progressive community with lots of southern hospitality and is rich in history and tradition. Washington County is home to the oldest courthouse in Kentucky, and is still active and open to the public.
Washington County News
The county's Flood Insurance Rate Maps (FIRMs) have been revised using the latest technologies and the most current data so residents, homeowners, business owners, and community officials may understand the local flood risk and keep people and property safe from floods.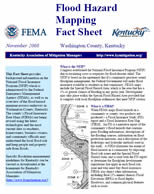 You can now view the Flood Insurance Rate Maps for Washington County, along with information about National Flood Insurance Program (NFIP) which is administered by the Federal Emergency Management Agency (FEMA).
Click here to view more information about the Flood Maps for Washington County, KY.
Come visit Washington County, centrally located
in the heart of Kentucky!


View a map, marked with points of interests!